You Matter Moment Showcase
​Did you give or receive a You Matter card?
I give out You Matter cards on a regular basis, and almost always receive a delighted response in return. One day I went to the drive-through window at my pharmacy to pick up my prescriptions. The clerk at the window looked a little frazzled. We chatted a bit and she started smiling and laughing. Before I left, I gave her one of the You Matter cards. She was thrilled and said how happy she was that I came through the pick-up window just then because she needed a little pick-me-up after having a stressful morning. The next time I went to pick up my prescriptions, what did I see? The You Matter card taped to the drive-up window. It's been months since then and the You Matter card is still there. I can only imagine how many people have seen that one little card and smiled at the message.
​Tell us why you participate in the You Matter Marathon.
Our country, as a whole, is in need of some much needed kindness, acceptance, compassion, and gratitude. I do what I can to make my little corner of the world a kinder, nicer place. The You Matter Marathon is just one of the many ways I do that. It is such a simple thing, but oh so powerful!
How has sharing You Matter cards impacted others?
My hubby and I give them out to the delivery people who come to our home, to our waiters/waitresses at restaurants, to random people on the street, with the Kindness Kits we make for the homeless and those in need, and to anyone who seems to be having a difficult day and needs to know they are seen, heard, and matter.

How has sharing You Matter cards impacted your own life?
It makes me even more aware of the condition of the people I encounter as I am always looking to share the You Matter cards and some kind words and kind deeds to people who need them.
​Did you give or receive a You Matter card?
Gave
​Tell us why you participate in the You Matter Marathon.
It is such an easy way to make a difference in lives. I am continually astounded to the response I receive when I hand a card to someone.
How has sharing You Matter cards impacted others?
We were driving from AZ to MN and were at a rest stop. There was an elderly woman emptying the outdoor trash cans. She was working hard and struggling to get the bags into her cart. I handed her a You Matter card. She read it and yelled: "I love you!" with tears in her eyes. As we drove off she gave me a huge wave. I do not know her story. I just know she "should" be retired and was working very hard.
How has sharing You Matter cards impacted your own life?
I am continually touched by how folks respond to those simple two words. Often I get tears in my eyes. It warms my heart to know that something so easy can mean so much to folks. It is the LEAST I can do.

Other comments?
I have been participating in the You Matter Marathon for many years now and love it. I continue all year and carry cards with me at all times. Thank you for providing both the idea and opportunity to make a difference in lives.

​Did you give or receive a You Matter card?
In late February 2023, I was in New York City for a short visit. It was my last day there, and I was walking down the sidewalk in midtown Manhattan with my sister and her partner. We were walking to the subway station and passed by a homeless man lying on the sidewalk, next to the curb. When we reached the corner, I said to my sister, "Wait here for a minute. I have to go back." I ran back to where he lay. He was holding a cardboard sign on which he had written the words, "Giving up hope." I approached him slowly and leaned down to look him in the eye. I said, "Don't give up hope," and gave him my biggest, brightest smile. Then I handed him a "You Matter" card and waited while he read it. When he had finished, he looked up at me and smiled. Something indescribable connected us, and in that moment, it felt as though I was looking straight into the eyes of God. I cannot tell this story without crying; the feeling was that powerful. Since that moment, I have thought about that gentleman often, wondering if I made a difference in his life. I know he absolutely made a difference in mine.
Tell us why you participate in the You Matter Marathon.
To show people that they are seen.
​Did you give or receive a You Matter card?
I have 6000 cards printed to make certain I don't run out of cards. Often, when I give a card, the person will say they want to pass it on. I then give them several cards so that they, too, may enjoy giving them to others. I will, at times, ask if the person has a "sweetie." If the response is yes, I hand them a card to give to that person. In the very cold weather, I donated over 50 coats, hoodies, jackets, vests along with 100 socks, hats & gloves to an organization I know provides lunches directly to the homeless. When I dropped them off, I included 250 You Matter cards with instructions to distribute them to the homeless people. WHAT A JOYFUL FEELING I experienced just thinking of the people who would receive the cards — I think that brought me more pleasure than giving the warm clothes.
Tell us why you participate in the You Matter Marathon.
I firmly believe the cards make a difference in the lives of those who receive them, even if only in that few moments. And, I can't even express the amount of pleasure & joy I experience with those individuals — some amazing moments, to be sure.
How has sharing You Matter cards impacted others?
I have forwarded so many examples, such as the guy I thought was angry because I took the time to give a cashier a card & hear her response. Conversely, the man raced to the door to "catch me." His comment: "My wife is in the hospital, dying & I can't do anything. I just feel helpless. This lets me know that I am not. You are an angel. This is God's work." I have a plethora of such stories.
How has sharing You Matter cards impacted your own life?
I've give about 10,000 cards. Some people now call me "the You Matter Lady." I feel so full and a definite shift in my emotions (for the better) regardless of how I'm feeling before giving a card. I've actually had people tell me things such as, "YOU are the one!! I saw this at the teller's window at the bank." or one the wall in the doctor's office, or at the cash register in the grocery store, etc.. I go NOWHERE without them. They are with my cash & credit card, in all my jacket/coat pockets, my purse, my jeans pockets—anywhere I can stash them.
Other comments?
I feel so very grateful that you have gifted this to the world. Thank you!

​Did you give or receive a You Matter card?
Gave a number of cards to a friend of mine to share the love….
Tell us why you participate in the You Matter Marathon.
To the world you may be one person, but to one person you may be the world. ~Dr. Seuss~
It does not take grand gestures to rock someone's world. To be an ear to listen to them, to hug them when they are hurting, to cry with them when they are in pain. We just need to be present in each other's lives and take the time to show we care.
How has sharing You Matter cards impacted others?
I had to share with you…A past patient of my came in today as a new patient(she's Ashley's age) she asked to give me a hug when she left & said…"do you remember when you gave me that business card that said "You Matter" when I was going thru a tough time in my life?… I still have that card..I keep it on my bathroom mirror " She almost made me cry….one little card…one little gesture…can make a huge difference in a person's life💓💓 I need to use them more! PS..my friend.."YOU matter" 🥰💓
How has sharing You Matter cards impacted your own life?
This story from my friend almost made me cry. Something so small, a 2 x 3 1/2″ card, makes such a HUGE impact.
Other comments?
Thank you, thank you, THANK YOU! YOU are the BEST!!!

​Did you give or receive a You Matter card?
I bought 250 cards in the summer. I have been giving these out for some time now and this morning we made cards for the AMAZING nurses here at Jefferson Oncology infusion lab here in Philadelphia, PA. My husband was diagnosed with a rare blood cancer in June and we have been coming here once a month for 3 days so that he can get his treatments. We are beyond grateful for the care that he has received here and are touched by all of the infusion nurses. I brought them all cards and we hope that they remember how much THEY MATTER to the families who are going through cancer. This process for the individual as well as their loved ones and families is life-changing, but they have all been angels and we are truly grateful for them.
Tell us why you participate in the You Matter Marathon.
I love giving these cards out and seeing the reaction on the face of the receipt. It is such a little card with such a BIG statement and I thank Cheryl and her crew for starting this movement I am so happy to be giving these cards out. I also started giving the recipients cars to give out as they please as well. I want them to see reactions like I have seen–one smile goes a long way. Thank you Cheryl and crew for changing the world one card at a time!
How has sharing You Matter cards impacted others?
I share these cards with so many people who are struggling and I started giving them so they can hand them out to people. They love to report back to me about their stories and how it makes them feel better too. This is so nice to hear!
How has sharing You Matter cards impacted your own life?
I love being part of such an influential movement. I give the cards out in every setting I can-it is just amazing and it just makes me feel happier to give them out.
Other comments?
Thank you so much for all that you do! Cheryl – you are such a wonderful person and you make this world a brighter place. Thanks again!!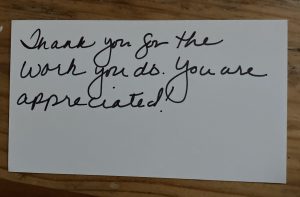 ​Did you give or receive a You Matter card?
I give out the cards. They fit perfectly in the sleeve of the $5 coffee shop gift cards I've been handing out to front line workers since the beginning of the pandemic. I write a personal message on the back of the you matter card, telling them they are appreciated.
Tell us why you participate in the You Matter Marathon.
So many people feel unseen in the world today. Acknowledging people, letting them know they matter, is a simple yet profound message.
How has sharing You Matter cards impacted others?
I've handed them out to store clerks, military personnel, first responders, janitors, bus and Uber drivers, and others in service industries. Their complete surprise and joy never ceases to amaze me. I wish I saw their reaction when they read the personal message, but I'm sure the joy is enhanced.
How has sharing You Matter cards impacted your own life?
The money I spend on the coffee cards is money I formerly spent on my own coffee, lunches, etc. Giving these small tokens of appreciation along with the powerful "You Matter" message has brought me unlimited happiness. Just knowing I've brightened someone's day always makes mine better.

Other comments?
Thank you for helping me on my mission of caring for others!

​Did you give or receive a You Matter card?
BOTH! The lovely lady in the wheelchair, Bernice, gave me a card last year at an event for Multiple Sclerosis that I was volunteering at. Fast forward a year and I gifted her with a card!
Tell us why you participate in the You Matter Marathon.
It is a wonderful way to let people know that there are still kind and caring people that want to show others that everyone matters.
How has sharing You Matter cards impacted others?
A lot of people have the same reaction when I give them a card. Perplexed, confused – it takes them a minute to realize no strings attached and it is just an act of kindness.
When I gave Bernice her card this year, she was moved to tears for a few reasons. That I thought she mattered and that I joined the movement because she gave me a card.
How has sharing You Matter cards impacted your own life?
I have always loved helping others, volunteering, and honoring Veterans, so this is just another way for me to let people know they matter and are important regardless of whether I know them or not.

Other comments?
This is a wonderful thing that you started and I hope that it continues to grow and more and more people receive and in return give a You Matter card. Thank you.

Did you give or receive a You Matter card?
I received a whole pack of cards.
When I pulled into the parking lot of Omega Institute on Friday July 8, I parked by a car with license plate 'U MATTER'. It made me feel good, I smiled and thought I am supposed to be here. Then when I was leaving, a lady was in that car with windows opened. So I thanked her for making me feel good with her message so she gave me a pack of cards with same phrase. This led me to Cheryl's TED talk 😊 and I will be more than happy to give them to other people. Thank you so much for this much needed message.
Tell us why you participate in the You Matter Marathon.
To make others feel great.
How has sharing You Matter cards impacted your own life?
I made me feel good and happy.
Other comments?
Amazing initiative!
​Did you give or receive a You Matter card?
Give – LOTS! Receive – a few 😉
Tell us why you participate in the You Matter Marathon.
We participated this school year because we know times have been hard for many and the emotional support needs for our staff and students are higher than usual. This gave everyone ownership to give and receive the simple and profound message.
How has sharing You Matter cards impacted others?
During November, our elementary school shared the cards and the message and connected it with the picture book, You Matter, by Christian Robinson. The word was already spreading, and soon we planned a district wide celebration to take place in May. During this time, all staff and students were encouraged to complete a postcard to someone that they could choose to deliver, and then also use a small tag to attach to a display frame for others to see. Each building had their own frame, and then on May 6th we brought them all together in our downtown Makery shop for a public celebration. The effects were immediate and heartfelt, from administrators down to preschoolers, and we were connected by literature and a unified message with leadership from our district library department.
How has sharing You Matter cards impacted your own life?
Since I personally started 3 years ago, it has been a chance for me to recognize the many people around me from strangers to familiar friends who have an impact on my life and world. I feel grateful to share the message back with them.
​Did you give or receive a You Matter card?
Gave a You Matter card!!!
Tell us why you participate in the You Matter Marathon.
I know that I could use a "You Matter" card which leads me to believe that we ALL need them!!!
How has sharing You Matter cards impacted others?
I think that I have given over 400 cards to folks in the past sixteen months. I learned something today, though, when I gave one to a young mother with her child as they were checking out at one of my local Walmart stores. She was reluctant to take it…… maybe she was suspicious…… but when I suggested that she might give it to someone else, she gladly received it. What I learned today is that eye contact is part of the distribution…… every bit as important as the two words on the card. I am so personally grateful to have an "excuse" to interact with those around me!
Other comments?
THANK YOU (two additional important words!) for giving me a reason to speak to others…… not that I need an "excuse," but the cards sure help!
Did you give or receive a You Matter card?
Each of our 5th graders and their teachers gave out at least one card. To date, we have given out over 100 cards in the Boca Raton, FL area of South Florida.

Tell us why you participate in the You Matter Marathon.
This is our first year participating in this project. As our 5th graders get ready to move on to Middle School next year, they wanted to start a project that could serve as their legacy for the future 5th graders at Pine Crest School. It was important to us that the project promotes leadership and care and concern for our community and the world around them.
How has sharing You Matter cards impacted others?
It has given us the opportunity to take time to really think about what it means to matter and has had a profound effect on our school community and beyond. One student saw a child playing alone at a local park and his card helped him spark a conversation with that child. Some students gave their cards to previous teachers or friends and many gave them to family members. Some of our faculty gave to caregivers, such as nurses and doctors or employees of local stores that they frequent. The overall consensus was that each card made the recipient feel good and lifted their spirits. Another interesting thing that the students also noticed was that many people were not accustomed to getting a compliment. This led to a great discussion and we concluded that perhaps that meant we need to give compliments or express our gratitude for others more often.
How has sharing You Matter cards impacted your own life?
The You Matter cards are a physical reminder for me to take an extra few minutes here and there to express my gratitude towards others for how they have impacted my life. While I always say please and thank you, I feel like the cards help me to show appreciation for others in a more meaningful way. While this is something we all know and understand, actually doing it, is another thing altogether. I definitely feel lighter and happier each time I share one with someone in a meaningful way.
Other comments?
While we originally gave each student only one card to use with the intention of really thinking about who it would go to and why. Since then, the students have asked or created more on their own and in a very short time, the ripple effect has quadrupled, to say the least!

Did you give or receive a You Matter card?
I give the You Matter cards mostly to strangers.

Tell us why you participate in the You Matter Marathon.
Because when I give a card to a busy cashier, waitress or people I just met I always receive a smile and sometimes I get a hug.
How has sharing You Matter cards impacted others?
When I give a card to someone I always get a positive response. Usually I give them to people such as cashiers, waitresses or waiters and I always get a smile back, sometime I also get a hug. I love making others smile because it makes me feel better and I also smile. I gave my first card to a young man who was a cashier at Walmart. He was trying to keep up with the long lines and looked quite frenzied. When I gave him my money I also gave him a card. His frenzied look disappeared and he looked at me and smiled. He told me he was having a bad day and I made his day with that simple card with just the 2 words "You Matter." He clipped it on his name tag and told the other cashiers around him and said look what I just got. I walked out with smile on my face and it made me feel good because it was nice knowing I gave him reason to smile. I get that reaction from everyone I've given a cards to.
How has sharing You Matter cards impacted your own life?
I believe everyone matters and it adds joy to my heart. It also makes me feel better and I always get a positive response which gives me reason to smile as well.
Did you give or receive a You Matter card?
Recently I participated in the Point-in-Time Count in my town of Lebanon, PA along with some of my co-workers. The point-in-time count happens all over the country on the same night to count the number of people in our communities who are experiencing homelessness, both sheltered and unsheltered. I took my You Matter cards along to share with anyone we may encounter along the way. I also shared the cards with my co-workers and other people participating in the count, some of whom had never heard of the You Matter movement.

Tell us why you participate in the You Matter Marathon.
I believe everyone matters! I love the mission behind the You Matter Marathon. Too often we are quick to give a bad review or complain when we receive unsatisfactory service at a restaurant, for example, but we do not always think of complimenting someone. The You Matter cards make it easy to tell someone that they are valued. It has brought me joy to see someone immediately smile after reading what the card says.
How has sharing You Matter cards impacted others?
It has provided an opportunity to educate others about the You Matter project.
How has sharing You Matter cards impacted your own life?
I gave some cards to my husband so that he could also participate in the You Matter Marathon. The first card he handed out was to my 27-year-old son (his step-son). It made me realize that they have a closer relationship than I thought they had.
Did you give or receive a You Matter card?
Give.
Tell us why you participate in the You Matter Marathon.
In our town of Midland Michigan, we have had a community wide Wellbeing Coalition, and several groups have completed Positive Psychology/Wellbeing certification. It was during this class that I learned about the You Matter Marathon. One of the "tiny habits" that I developed was sending You Matter cards to my staff at school, friends, church members, and community members. I am the Special Education Director for the Midland County ESA. Our school district has a "Better Together" committee, and we have worked on positive psychology and wellbeing for the last three years.
​How has sharing You Matter cards impacted others? Feel free to include a story.
Several recipients of You Matter cards have responded on how receiving a You Matter Card has helped them with the stress of a very stressful school year. Recipients have also asked me about the You Matter campaign and joined the campaign and followed the website. I have nominated several local agencies to sign up for their first 30 free cards.
How has sharing You Matter cards impacted your own life?
I truly find wellbeing and happiness in sharing the cards with others. In a world of text messages, emails and social media, receiving a handwritten note and a You Matter Card can turn a day around not only for the recipient, but for the sender.

Other comments?
Thank you for this campaign — I truly enjoy the You Matter Marathon and following your website and social media posts. YOU MATTER!
​How has sharing You Matter cards impacted others? Feel free to include a story.
Hello, A story to share:
I attended a residential week long art workshop in July 2021 and gave the participants a YOU MATTER card on the last day. They were most appreciative and happy to receive them. Then 7 months later (February 2022) I got an email from one of the ladies expressing thanks for the card. She told me she has it taped to her computer desk. She said it has been "a source of strength and healing" and thanked me again for giving it to her. She said "Two words incredibly powerful and something we desperately need to hear sometimes"…..
So a small act of kindness….not so small. I was very happy to receive this email as you can imagine. I love sharing these cards with others, it makes my day and I continue to spread the YOU MATTER magic most days. I will never stop sharing these cards as I know the impacts are far reaching.
BIG HUG and BIG love to all …. Janine
​Did you give or receive a You Matter card?
I give You Matter cards.
Tell us why you participate in the You Matter Marathon.
I participate because I believe all life matters and some folks do not hear those words, sometimes ever. It's important as a society that we find ways to build each other up and You Matter cards have the potential to impact strangers in ways we may never truly know.
How has sharing You Matter cards impacted others? Feel free to include a story.
I'm going to share the story that has impacted me the most, I could share several, but this one genuinely touched me. I was in the waiting room of my doctor's office, a little bit crabby because my doctor was running behind and my mind was wandering, I overheard a man from behind me talking to the receptionist. His ride had left and this man's wallet was still in the car. He was trying to find a way to pay his $5 copay without his wallet. I looked in my purse and saw the corner of a $5 poking out of all my purse clutter. I walked over to the man and put the $5 bill on the counter in front of him. Needless to say he was shocked and maybe a bit embarrassed. He was struggling for words, saying "I don't want to be THAT guy" and "really, you don't need to do this." I smiled behind my face mask and said "some time you will have the opportunity to pay it forward, it is such an amazing feeling, I think I am the winner in this situation." He was saying that he would pay it forward for sure and other random comments until he asked me the golden question – "do you have a business card?" I replied, "I do not have a business card but I do have this" as I handed him a You Matter card. His eyes started to fill with tears as he read the words and held the card to his heart. He told me no one had ever said that to him before. As I felt my heart break a little, I looked him straight in the eyes and said, "You DO matter, do not ever forget that." He held that card tight and said "now this, this I will keep forever, you have no idea…." The lesson I learned from this encounter was that $5 got him through the moment, a You Matter card just might get him through a lifetime.
How has sharing You Matter cards impacted your own life?
The reactions from strangers is undoubtedly an emotional and fulfilling experience for me. I'm honestly caught off guard when a grown man, looking tough, gets tears in his eyes as he reads those two words that mean so much.
Other comments?
Thank you for everything you do to allow me the opportunity to share these two words with so many who need to hear them.
​Did you give or receive a You Matter card?
My son Joseph (15) passed them out in his high school.
Tell us why you participate in the You Matter Marathon.
My children's high school has suffered 2 suicides in 3 weeks and I can't help but think if they only knew how much they mattered they might still be here.
How has sharing You Matter cards impacted others? Feel free to include a story.
My son said everyone he shared a card with smiled and said thank you.
How has sharing You Matter cards impacted your own life?
It has made me see the caring side of my son who just wants his peers to know they matter and I couldn't be prouder.
Other comments?
Thank you.
​Did you give or receive a You Matter card?
I read about the project and wanted in.
Tell us why you participate in the You Matter Marathon.
Every one of us matters and too often folks don't know it.
How has sharing You Matter cards impacted others? Feel free to include a story.
I live in a retirement community and put at YOU Matter card in every resident's birthday card! The comments I have received are so appreciative.
How has sharing You Matter cards impacted your own life?
I have a YOU MATTER sign in my window and folks walking by notice, smile and wave!
​Did you give or receive a You Matter card?
I received the cards and gave out the cards.
Tell us why you participate in the You Matter Marathon.
Because it is important for me to remember that I matter. Life gets bumpy sometimes so we all need that very positive reminder to keep going.
How has sharing You Matter cards impacted others? Feel free to include a story.
I have been on dialysis since 2008. There have been alot of ups, downs and very close calls. It can take your joy away if you are not careful. So I shared them with the dialysis social worker with the instructions to please give them to patients he feels are down. I hope that it cheers them up coming from a fellow dialysis patient who knows how it feels to be sad because of it sometimes.
How has sharing You Matter cards impacted your own life?
It has helped me get away from feeling sorry for myself. And to again fight to be positive, active and hope for the future.
​Did you give or receive a You Matter card?
I gave. It was the first week for Larry to be volunteering at the mission. I had been watching him and noticed he had low self esteem. We talked and he shared some of his issues. Told him I thought he was doing a good job. He didn't agree. He went back to working, later to come back to my area. At this time I remembered the "You matter" cards. I took one from my purse went to Larry, and told him I had something for him. He reached out his hand and I put it in his hand. He looked at it, looked at me, and I saw tears well up in his eyes. He said thanks and went back to work. Didn't think much about this again until 3 weeks later. He came to me with a big smile on his face. He reached into his billfold and pulled out the card, telling me that that little card was going to be framed. Of course I asked why? and he said because of it, he asked the boss about a donated car that he wanted to buy. He said me giving the card gave him a boldness to ask for something for himself and that when he got the car, that card was going up on his wall at home! Talk about being on cloud 9! He was…and so was I! Thank you!
​Did you give or receive a You Matter card?
I have given some out.
Tell us why you participate in the You Matter Marathon.
I ordered the cards privately but am also on the board of a non-profit that deals with people who're chronically ill.
How has sharing You Matter cards impacted others?
I'm very involved in a community of people that suffer from an an extremely debilitating and misunderstood disease called Myalgic Encephalomyelitis. I've witnessed it personally and as a member of a non-profit, that the disease is terribly isolating. Many people have no support systems. I sent some cards out in Xmas cards to fellow patients this year and have received notes from numerous people telling me that the cards now rest on their bedside tables. They remind them of their worth and that it doesn't matter what they're able to do that day, they matter.
How has sharing You Matter cards impacted your own life?
I feel good knowing that people I care about know that just being them has value.
Other comments?
Thank you! We're making these cards part of a "Caring Card Club" that sends out cards to people for their bdays, holidays or when they need cheering up.
​Did you give or receive a You Matter card?
I have given out You Matter cards.
Tell us why you participate in the You Matter Marathon.
I read about this on the internet and was really touched by the idea. So many people need to hear that they matter, that they make a difference. In today's world it is so hard sometimes. It's very easy to get lost. Being able to bring focus to a person in a mere moment of time that they matter can honestly change the trajectory of someone's life. It can bring miracles.
How has sharing You Matter cards impacted others?
When I first started giving them out, I would tuck them inside library books when I returned them to the library. I thought it would be a nice surprise for either the next person that checks out the book, the librarian, or any other person that found the card. I wouldn't ever know who it would be, but it would make a positive impact on their life. I then started passing them out to cashiers, some family members, I put one inside a Christmas present for a co-worker. I gave one to a nurse the other day. She smiled and said to me "Thank you, that made my day." Each time I extend the card out, no matter if it's in person or I'm tucking it somewhere and I won't know who receives it, I feel happy. In that moment, energy is being created for good with positive ripple effects. It's a wonderful thing.
How has sharing You Matter cards impacted your own life?
This experience has impacted my life in such a positive way. I love having the opportunity to lift someone up.
Other comments?
This is such a wonderful idea. I'm so thankful I found this and am able to participate in it. Hopefully, in some small way, it will bridge the gap of division in the world today and help bring us a little bit closer, even for just a moment.

​Did you give or receive a You Matter card?
This is my 1st marathon. So I am just figuring it out. First, I gave several to educators I work with who were particularly stressed due to staffing shortages and the hard decisions that go with those challenges. Then I found it fun to leave some in random places such as at a museum and grocery store behind the clear COVID dividers…hopefully where MANY people will see them. While flying, I had a very positive, energetic flight attendant who invited us to go out and make the world a better place so I thought, "Hey, HE needs to know HE is making a difference so I gave one to him. Finally, I gave some to my 2 daughters so they could pass them on.
I have gotten used to having them in my purse so now I need to print some myself so I always have some on hand. I want to keep doing this until I get one or see one somewhere!
Tell us why you participate in the You Matter Marathon.
I love simple ways to serve others.
How has sharing You Matter cards impacted your own life?
It is a positive thing… and the world is too negative these days. We each can do something.
​Did you give or receive a You Matter card?
I give out cards all year long.
Tell us why you participate in the You Matter Marathon.
It is so rewarding to see the smiles that come from the people I give a card to.
How has sharing You Matter cards impacted others?
I volunteered at the Angel Tree Collection center this year that was sponsored by the Salvation Army. We had to do it in a mall parking lot because of the pandemic. So people drove through the designated area to drop off their gifts for the angel they had chosen. Everyone I took gifts from I gave them a YOU MATTER card and they were so pleased and surprised to receive them. Brought smiles to mine and their faces. I also gave cards to all the "elves" that were there collecting the gifts and got a lot more smiles.
How has sharing You Matter cards impacted your own life?
It's helped me to be more aware of all the kindness and appreciation that is out there in the world. Makes me look at the world in a more positive manner.
​Did you give or receive a You Matter card?
I gave a You Matter card.
Tell us why you participate in the You Matter Marathon.
I am a special education teacher and I know many of my coworkers need to have a big pick me up and to know they Matter a whole bunch in the lives of our students but also in the lives of the adults they work with. I also love telling kids positive things to make their day and the You Matter is a nice high five for many of them. they love being noticed.
How has sharing You Matter cards impacted others?
I had a coworker first say that's corny but then said right after how much that just made his day.
How has sharing You Matter cards impacted your own life?
It puts a smile on my face and makes me feel good spreading joy to people. There are days I am ready to throw in the towel and quite teaching and I know many of my coworkers are at that point sometimes. This has given me a new outlook when I am having a bad day I send one of the digital You Matters out to someone who made a difference in my day.
​Did you give or receive a You Matter card?
I received 30 free cards from Cheryl. I made reprints of my original cards so I now have many more to share. I get so much joy and pleasure from handing out these cards to complete strangers that it seems almost selfish to be doing this.
Thank you for showing me how connected we all are.
Ripley
Tell us why you participate in the You Matter Marathon.
I know how important it is for me to feel that I matter. That's why I wanted to let others know that they matter too.
How has sharing You Matter cards impacted others?
People always seem pleasantly surprised to receive such a message coming to them out of the blue. I have never encountered anyone telling me, "I don't need this."
How has sharing You Matter cards impacted your own life?
It has helped me to connect with more people and offer them kindness even when I don't know them personally. I feel uplifted and good about myself whenever I reach out to others and share such a personal, comforting message with them.
​Did you give or receive a You Matter card?
I'm giving out the cards.
Tell us why you participate in the You Matter Marathon.
Everyone matters and I honestly think people need to be reminded of this.
How has sharing You Matter cards impacted others?
I am a Doordash driver and I come in contact with alot of people including overworked restaurant workers, healthcare workers, business owners, poor people, rich people, and more. We never understood what others may be going through and dealing with. A simple card saying YOU MATTER can possibly change someone's entire outlook on the day, and possibly life. I will continue to do this past November, because people matter all the time!
How has sharing You Matter cards impacted your own life?
Sharing cards has made me more positive!
​Did you give or receive a You Matter card?
I gave a You Matter card.

Tell us why you participate in the You Matter Marathon.
This is my fourth year of participation in the You Matter Marathon. I have personally witnessed the power of a little card in delighting and empowering others.
How has sharing You Matter cards impacted others?
The first thing I noticed about Joshua was his sparkling eyes behind the mask. My husband, Harold, and I were doing our weekly "geezer" grocery shopping at Walmart in Richland, Washington. Joshua asked if he could assist me in finding something in the produce section. His warmth and friendliness were palpable.
I had a few "You Matter" cards in my pocket. I handed him one. He looked at it and immediately had tears in his eyes. He said, "Each morning when I am awakened by the alarm on my phone, it says 'You are enough.'" Then I had tears in my eyes, too! He is very special, and more than enough…
I told Joshua how he could obtain his own set of cards, which he promptly did. Now, he is sharing the "You Matter" message with those he connects with…just like our first encounter. We're YuMMie buddies for life!
How has sharing You Matter cards impacted your own life?
It fills my heart!
Other comments?
So happy to participate every year, and to see the number of individuals, organizations, country representations, and number of distributed cards grow!
​Did you give or receive a You Matter card?
I gave out a You Matter Card.

Tell us why you participate in the You Matter Marathon.
I think that all human beings deserve love, honour and respect and have a purpose in this Universe. So they matter.
How has sharing You Matter cards impacted others?
As part of the Outreach Program of Rahma Foundation, which is a private family foundation, we distribute about a 100 meals to the people experiencing homelessness in Downtown East Side in Vancouver, British Columbia, Canada. I had just received my cards in the mail and I distributed them with the meals. I was feeling a little skeptical about how they would receive it. Would they understand the message and appreciate it, or would I see those cards dropped on the sidewalk after the distribution? I was pleased with the response. They had huge smiles on their faces as they were given a card by a volunteer who genuinely said "You Matter" to each person as she handed them the card. They secured their card before picking up their meal. What happened next was amazing; one of the recipients crossed the street, flung up both her arms in the air and shouted, "I Matter." At that moment I realized the true impact of this small action of handing out the cards. I hope to print 100 cards every month and distribute them with the meals. Thank you for introducing me to this idea and for my first batch of cards.
How has sharing You Matter cards impacted your own life?
I felt thrilled when I received the cards and told to keep one for myself. I have it in my phone cover wallet and it makes me feel valued. I experienced even more joy when I distributed them.
Other comments?
I am from BC Canada. My province was not on the list of states above, so I just put in Alabama in order to be able to continue. I really wanted to share my story. I did not mean to lie about where I am from:)
​Did you give or receive a You Matter card?
I recently gave a card to a young man working the window at a drive-thru restaurant. My order was large so I had to park and wait. He, himself, came out to deliver the order and with a big smile on his face asked, "are you the one that gave me the YOU MATTER card?" I was surprised and replied, "yes." He effervescently poured out the words, "no one had ever given me something like that before; it made me happy."

Tell us why you participate in the You Matter Marathon.
With so many of our industries short-handed, I have the heartfelt opportunity to show our workforce how much they truly matter to me and are appreciated by me each and every day. Love unites us.
How has sharing You Matter cards impacted others?
It sings a fabulous tune of PASS IT ON. I hear my grown sons tell others about how their mom always tucks a card in with the waitperson's tip, or hands it to a random person…

How has sharing You Matter cards impacted your own life?
The physical cards help keep me mindful of my fellow life travelers.
Other comments?
You are loved.
​Did you give or receive a You Matter card?
I belong to a group that sends cards to seniors for birthdays, thinking of you, etc. I have started including "You Matter" cards in the cards I send. I think it is so important to remind seniors that they still matter. Covid has caused so many of them to be isolated from family and friends.
​Did you give or receive a You Matter card?
Gave.
Tell us why you participate in the You Matter Marathon.
I think that acknowledging people who are struggling is especially important right now with a hostile political climate and parents/students verbally attacking teachers for policies that are set by public health and school administrators.
How has sharing You Matter cards impacted others?
I gave one to a teacher who was berated by administration for following public health orders and enforcing a mask mandate. It was just what she needed as teachers are made to feel horrible about attempting to keep kids safe and at school. I am also handing them out to students who are struggling.
Other comments?
Thank you for the cards.

​Did you give or receive a You Matter card?
Gave.
Tell us why you participate in the You Matter Marathon.
It's a worried world, and these little cards always bring a smile to the receiver.
How has sharing You Matter cards impacted others?
Handing out my cards brought joy to others and to me. Yesterday I tucked one in the window of a old, worn car that had on the back window, Black Lives Matter. I would have enjoyed seeing the owner's face. All the rest of my cards brought warm smiles. I put one on the work cart at Winco (grocery) of a lady who always looks stern and works so diligently filling the bulk foods bins. I'd never seen her smile in the ten years I've been saying 'Hello' to her. A grocery checker at Grocery Outlet is always kind, but looks so tired. It brought an 'Awww.' These really make a difference in lives, no words need be spoken.
How has sharing You Matter cards impacted your own life?
Gives me a nice warm feeling, like a hug from afar. And I get to give a caring smile to the person with the little card in their hand.
Other comments?
If I could, I'd like to purchase more cards.

​Did you give or receive a You Matter card?
Gave them to so many people struggling to work in healthcare last year.
Tell us why you participate in the You Matter Marathon.
I participate because I love to see faces light up when they realize they are appreciated.
​Did you give or receive a You Matter card?
Gave.
Tell us why you participate in the You Matter Marathon.
I love letting people know they are appreciated.
How has sharing You Matter cards impacted others?
Went to the ice cream store for a treat and gave a You Matter card to the young woman who waited on me. She came around the counter and told me that she knew today was to be a special day for her and that the card I gave her made it special and she gave me a thank you and a big hug which felt wonderful!
How has sharing You Matter cards impacted your own life?
When I see people again that I had given a card to earlier they tell me, with a smile, that they keep the card with them all the time and it reminds them that they do in fact Matter and that brings a smile to my face also. I love to smile, it feels so good.
Other comments?
I take them with me everywhere I go because you just never know who you might be able to give one to. Most fun!

​Did you give or receive a You Matter card?
Yes, I gave some to my granddaughter Clare-Marie (she is 7 yrs. old)
How has sharing You Matter cards impacted others?
Just thought I would relate this story. I gave my 7 year old Granddaughter some cards. There was a clerk in a store who never had a smile on her face. Clare-Marie gave her a card and she broke out in a big smile and lots of thank yous. She looked like she was going to cry. She is now so friendly.
​Did you give or receive a You Matter card?
I gave three cards to the folks at my dermatologist's office, including my dermatologist! When I told the LPN to check out "You Matter Marathon," he did so right away…. IN THE EXAM ROOM!!! So very cool.
Tell us why you participate in the You Matter Marathon.
Participating in the You Matter Marathon is just one simple thing I can actually do to possibly change a person's day.
How has sharing You Matter cards impacted others?
I have probably distributed 250 cards SO FAR, and in only one case, was the card not received with gratitude, a "thank you" and a warm smile. Many times, the recipient has said… "You have no idea how much I needed that today!"
How has sharing You Matter cards impacted your own life?
Not unsurprisingly, sharing You Matter cards has shown me that I matter, too……. I matter to those to whom I have given a card. Because I'm just sharing "two words" with someone, it reminds me time and time again that words DO matter. Without saying so, the implicit meaning is that you can always give without receiving something tangible in return. The words YOU MATTER communicate so much more than the two words. In today's world, these two words matter more than they ever have! I am so very grateful to have found a "mission" I can complete so easily!!!!
Did you give or receive a You Matter card?
The other day I went to a Salvation Army Woman's Auxiliary meeting armed with a bunch of You Matter cards to put around on the tables for the 50 participants and when I arrived I saw that someone else had the same idea and had put a You Matter card on each place setting. Such a warm feeling to know someone else had the same idea.
Tell us why you participate in the You Matter Marathon.
I got the free 30 you sent out last year for the first time and those went so quickly that I ended up ordering another 100 and after those were gone I ordered another 1000. I love handing them out to people and seeing their reaction. I've even gotten a few ohs, awes, tears and hugs from many.
How has sharing You Matter cards impacted others?
I've had a few people tell me that they really needed to know that they Mattered at the particular moment I handed them the card.
How has sharing You Matter cards impacted your own life?
Handing out the cards has given me a great awareness of how EVERYONE MATTERS and has caused me to be kinder towards others and proud to be a participator in such a heart felt gift.
Did you give or receive a You Matter card?
I order You Matter cards by the thousands and give them to any and everyone, put them inside my bill payments, letters, place then on parked cars, share 25-50 to those who would pass them along. Recently, at a big box store, I discovered I had no more cards in my pocket. I literally felt agitation, dismay and disbelief, telling my friend, "I'm very upset. I can't believe I left home without more cards. I've already missed three opportunities to give out a card." Handing people a You Matter card is such a part of my life for so long that missing the opportunity was disheartening.
Tell us why you participate in the You Matter Marathon.
The joy I feel with the recipients is second to no other joy!
How has sharing You Matter cards impacted others?
Everything from people bursting into tears sharing how much it meant or the extent to which they needed that in the moment, to people asking if I had more that they could pass along, to hugs, to returning it to me to give the same message.
How has sharing You Matter cards impacted your own life?
It has become an essential part of my life. Never want to be without my cards.
I find myself giving "You Matter" cards anytime the spirit moves me, which seems to be often these days!
 
Recently, I was going through the drive-through at a Wendy's, and handed the young man taking my money a You Matter card along with the cash.
 
When I asked what grade he was in, he said he just graduated from an alternative high school.
 
I congratulated him and he answered, "You inspire me!"
 
Then I handed the young woman at the food pick-up window a You Matter card, to which she replied, "another one?" Apparently, I had already given her one in the past.
 
I suggested she give the card to someone else and drove away with my salad, a tear in my eye, and a big smile on my face!
I have handed these cards out to homeless people on the street. I usually place the card in front of the dollar bill I hand them. I have gotten a few people look at it and when they read it, they have held it up high with a smile and even said God bless you! And I always tell them when handing it to them "YOU MATTER." I truly get a good feeling inside when I do this. Great initiative 🙂
I was feeling pretty defeated. My email had the story of You Matter. I had read of it before and had been very moved. Today I realized I was the one who needed the message and it was just handed to me. With love. I'm very grateful.
An internal sponsor brought this great initiative to our company and today I sent virtual YM cards to some good people. A smile came to my face when I received my first response within minutes of sending out YM. Love the virtual cards. Thank you for the introduction to the movement and I've ordered printed cards so that I may pass out in person, COVID be d*mned.  😉
My personal goal was to give more YM cards to strangers, especially men. In the past few years I have no problem giving them to women, but I struggled with giving them to men.
The day my YM cards arrived I had to run errands. As I pulled into the parking lot I received the gift of watching this young dad, push his cart super fast towards his truck with two young boys beaming with glee. As the dad picked each son out of the cart, he spun them around before placing them into their car seats…giggle galore. My mind thought is he going to think this is dumb and I shook that negative thought off, walked up to him and thanked him for brightening my day by interacting so joy-filled with his sons. I gave him the YM card, told him You Matter, turned around and walked away.
I hope his heart filled with joy as much as mine did watching him be in the moment with his two kids!
I am thrilled with the responses I have received from giving the You Matter cards! Unfortunately I have to go to quite a few appointments. I decided the people that work in healthcare are super deserving and have had super responses!!! I return and they still have the cards with them!
Yesterday the receptionists out front checking patients in and out seemed to be having a super stressful day. The lady that checked me in was unusually gruff with everyone. I was leaving and it was the same, so as she was finding my return appointment time, I gave her (and the other lady) You Matter cards… the tension in the area just dissolved and I have never seen these ladies so sweet and appreciative! (Her voice changed completely!) They thanked me numerous times and said they were going to keep them on their computers!
I gave one to the person that takes me to my appointments and her card stays in her car so she can keep being reminded!!!
Thank you for the You Matter Marathon!!!
Today I was challenged to do an act of kindness.
So I decided to wrap a couple dollars, an act of kindness card, and a You Matter card up and tie them all together. I went to Target and left it in an area that gets a decent amount of traffic.
Fingers crossed that someone sees it and it makes their day!
I first saw this wonderful uplifting marathon on 6ABC news. In this time of pandemic and so much upheaval in the world I thought it was a great project to get involved with.
I work at a college. Colleges are struggling now and have so many restrictions on their students if they are on campus. Where I work we only have first year and second year students who are so new to the college life and this semester hasn't been easy for them. They are told to keep apart and stay on campus. I remember my first year of college and how overwhelming it was and the adjusting was so hard. It has to be doubly hard for them with these restrictions. So I spent one day just handing out the cards as I past by. Most students were so thankful and thought it was a wonderful thing to receive. I just wanted to make someone's day better and I think this was a good way to do it. Thank you for the cards and the thought.
Two years ago on Thanksgiving Day I gave a You Matter card to the manager of our local Family Dollar. He is always so pleasant and was working that day so other employees could be off. He so appreciated the card, several times since he has pulled it from his wallet to show me he carries it with him. This year, I gave this nice man ten cards to give out. He balked at first and was uncharacteristically quiet, but then said, "I have quite a few customers going through rough times, they'll love this."
I was in the store today and he yelled at me as I was leaving, "Remember, You Matter!"
Isn't it wonderful to know we can touch so many people with this simple message?
This year has been challenging for so many in various ways. The virus, the lockdowns, etc. The civil unrest. The election. Everything is off kilter. But for me, on a personal level, this year started off rough.
I entered therapy for the first time in my life this past January. It's been a rough mental battle, I take anxiety medication and it's helping but there's still so much going on. I still suffer from insomnia and have 2 nervous tiks of picking at my fingers and biting my lip. My hands are picked raw. I've had to cut off family cause of their political views.
I've struggled with so much, having to come into work as if we're essential during a pandemic. We're not, I work at a personal injury firm and the ambulance chaser bosses don't want to miss anything, ugh!! But in helping others I can help myself. I write something on the back of my cards. My first read "Don't give up. JR." I feel that writing something on the back makes it more personal. And sometimes the personal touch really is needed. I struggle with anxiety and depression but am trying not to sink into a hole. So I keep on keeping on. I want to lift others up. I want to inspire people. I want to be the reason someone doesn't kill themselves. I want to leave this world just a little bit better than what I came into.  Misery isn't the only thing that's contagious. Smiles and happiness are contagious. I want to be the reason people smile. I hope I can bring a little joy into this world. I hope I can be a beacon of light in all this darkness. I just want to make a difference so thank you for this. Thank you for giving me that opportunity. I wish I had thought of it first, lol!!
I don't have any pictures, but this year while signing Christmas cards to pass out in the building where I live I added the You Matter cards to them. No one has said anything about them, but I don't need any validation.  It made me feel good doing it.
I love giving out my You Matter cards. When I was shopping the other day, I went to checkout my groceries and the young man that was the cashier seemed frustrated and just down in the dumps. I had my You Matter cards in my purse and before he started to checkout our groceries I handed him a card and on the back I wrote "just smile it will get better." He read the You Matter and smiled then he read what I wrote on the back and he grinned. He looked at me and said "I was having a really bad day but you just made my day and yes I will smile through the rest of my shift."
He finished checking us out and of course with a grand smile. As I walked away I turned to see how he was doing and he was showing his card to the checkout lady at the next aisle he had a beautiful smile on his face and I knew that the single little card had made his day and he would smile through the rest of his shift.
This is my 3rd year in the You Matter Marathon, and it was pure magic that led me to it, or it to me!
Three years ago I was having some problems with office politics at the college where I work. Specifically, my boss was jealous of some successful programs I had generated, and was making my life (and job) very difficult. I was lamenting all this to my daughter over coffee one day, and had just finished saying, "No matter how successful I am or how much I do, I feel like I don't matter" and no kidding, at that EXACT moment, there was a knock on the door, and my mailperson handed me a stack of mail. In it was an envelope from the You Matter Marathon. Not having ordered anything, I opened it with curiosity. In sheer amazement, there were 30 You Matter cards! You could have knocked me over with a feather. I still have no idea how I got them originally, but since that day, I have been part of the You Matter Marathon, and look for any opportunity to brighten someone's day, just like they magically brightened mine. Thank you so much for such a brilliant and easy way to lift other people up.
Thank you for these wonderful cards to spread this important message out in the world.  Since the Shelter In Place, I've been sending a card daily to either an essential worker that I don't know, to family and to friends.  It is a wonderful way to stay connected during this time and reflect on what is important and more importantly let others know they matter to you and the worlds.
Thanks again for your wonderful work.
I have passed out YOU MATTER cards for many years and have often been overwhelmed by the response these little cards generate.  One of my favorite places to use them is in the drive thru at a fast food restaurant.  Those folks are working hard and most customers just "grab and go".  I love to see their eyes light up when I hand them a YM card.  However, I recently received the greatest gift when my 6 year old granddaughter asked for some You Matter cards to give out at school.  She said her music teacher was so great and taught them all such important lessons that she (my granddaughter) wanted to give her a You Matter Card. And, she asked, if I had enough, could she have one for each of her classmates and her teachers.  I was happy to fulfill her request and even added a few more in her backpack in case she came across someone else who needed to be reminded that they matter.
New Year 2020 has been tragic so far here in Australia with all the bushfires.  It has given me a renewed sense of gratitude for my life, my home, my friends my job.  Grateful for simple things like my favorite tshirt, growing flowers and my ability to walk pain free.
Having participated in the You Matter marathon for three years now, I continue to share cards all year round.  I find it is especially important to connect with others when the world seems in crisis mode. I always have cards in my wallet and as I travel through my day I try to pay particular attention to strangers.  I wonder how their day began, was it with three children getting ready for school, an aged parent or alone?  Are they happy driving the bus today or looking for a new job ? I see others through the eyes of shared humanity and when I give a card out I look people in the eye, smile and say this is for you. This morning I gave out two cards to the ladies in the gas station, they were so happy and said " that's fantastic, that made our day". It is such a simple gesture to notice people and feel our sameness with everyone.
I love taking the time to appreciate others. It makes my day.  Kind wishes, Janine
I got my free 30 cards and passed them out in my school. I wrote on the back of each one "pass it on – Andro." Next thing you know people started coming up to me saying thank you, "I was going to take my life today," "I'm going through a lot at the moment," or "It's nice to have people like you in the world." No one understands how much a card with two simple words on it could change someone's life. Thank you so much.
You just don't know the powerful impact a simple card can have. I was shopping on a cold, dismal, winter day. When I expressed my appreciation to the clerk for his kind, courteous, non-pressuring treatment and handed him the "You Matter" card, he smiled broadly and said I am saving this in my wallet.
I went to my chiropractor the other night after work, and he looked a little more stressed than usual and it was extremely busy. I had a much longer wait than I usually do.  Everyone in the office was saying what a crazy day it was. I quite often make same or next day appointments and they always work me in, which I really appreciate so I gave him a You Matter card and he really appreciated it. Then I gave one to each of the rest of the office staff. they were all really touched, and one put it on the bulletin board above her computer. They said they had 55 patients that day and usually have 45. It felt really good to let them know how much I appreciate them. it makes me smile whenever I give out a card.
I like to be an anonymous card giver. I place the cards in an envelope and address them to the recipient. I either place them where I know they will find them or post them. The last card I gave was for someone I work with who has been having a hard time with another colleague.
One particular day I knew she was struggling, so I left the card for her to find. The next day she showed me the envelope, saying "look what someone has left for me", I could see her eyes welling up. She said that it had made her day and she felt really emotional.
I felt no delight in wanting to tell her it was me but seeing how moved she felt made me appreciate the huge impact such a small gesture can have on someone.
I often find that when people question who or why they might have received these cards it's often never for the reason I intended, for example, I left a card for a friend/colleague who is heavily involved in a charity, she thought this was the reason she had received her card, In fact, we had attended a firework display with our families and my daughters feet were so cold her toes were white, my friend gave her a second pair of socks to wear to keep her warm.
I have participated in giving out You Matter cards for a few years now and have savored the positive impact for both the receiver and giver.
This year I had my last 7 or 8 cards on the passenger seat of my car when my car was stolen. I had a club on so I knew it was a serious thief, one who carried a hack saw to cut the steering wheel. The door of my car was retrieved attached to a totally stripped similar car – strong doubt the rest of the car will be found at all. Processing this a week now, and often looking for something and realizing "Oh it was in my car – gone." I wonder How or if the thief  was impacted by seeing the You Matter cards? I am also struggling with How a car thief matters…
I am a high schooler. I know a ton of people, so it was hard pleasing everyone. After giving one of my friends in football, his teammates asked me why they didn't matter, so I gave them some too. They ended up tearing the cards up or making paper airplanes with them. To deal with this card shortage, I simply showed people the cards and sent them a phone wallpaper to use. I have 60 cards, which is double the amount of 30, but that simply wasn't enough! But overall, great program. My mental health and grades improved afterward.
For the past three years, I have shared YOU MATTER cards with so many individuals who have made my daily work easier. This is the easiest way to never forget to say thank you.
I have shared the cards with police officers, armed forces, students, faculty, staff but most importantly with the homeless. I have crochet afghans for years for the homeless. In each bag I give contains an afghan, socks, hat, hand / foot warmers and gloves with a You Matter card tucked inside.
Everyone's life deserves validation.  These cards have brought a smile to so many.
Thank you.
Yesterday, I met two wonderful people at the municipal building where I work. Their circumstances were not too easy, though. Turns out it was a brother and sister and the brother was coming to turn himself in for some crimes he committed. He was crying but anxious to get his life right again. A few moments later, the sister passed my desk and was leaving. I could tell this was hard for her. So I pulled out a card, gave it to her and she, too, started to cry. But it was happy tears! A few hours later, she was back to post bail for her brother! He was able to leave and go home. I gave him a huge hug!! They both know that they mattered!
We included the You Matter cards inside dignity bags for the homeless which also included socks, soap, and other toiletry items. Those bags will be distributed to our homeless friends at St. Vincent de Paul Society during the month of November.
Still excited after my second year of sharing my YOU MATTER cards.  Last year I had about 50 copies made to share over the 30 that I received.  This year I have had two orders of a total of 500 made by minuteman press and just had a receiver of my card to ask where can he get some.  He had such a great response to tell me about today that I told him I would order him what he needs. 
He runs a road side vegetable stand and for the last couple weeks; he has experienced an customer that always seems to be unhappy with his produce.  After her words of displeasure with a worker she walked away to her car.  Mr. James the owner said he shook his head as usual; thought about the YOU MATTER card and said no, then something said yes.  He said he called at her and she stop, he walked over and gave her the card.  She looked at the front and the back of the cards and then she looked at him and smiled.   Never had he seen a look like that on her face; it did something to him.  He said he wanted to call me right then to let me know how that card gave her and him something.  I stopped by his stand today and he was so excited about the card that he asked if I had more.  You Matter is more than a card he said.  I hope to send a photo of Mr. James to be used in the updates.  One card made a difference to him and he made a difference to someone else.
This is my first year participating in the You Matter Marathon and I have had such an amazing experience so far. With 15 of my You Matter cards, I handed them out to my fellow coordinators in my organization with a piece of candy and a handwritten note on the back. I decided to do this because it is getting to be crazy at school and things are starting to pick up. I also noticed that everyone had been feeling down about something or has been dealing with a lot. I ended up giving them to everyone at our weekly meeting and I actually made a couple people cry. It reminded them that they are not alone and that they do matter even when they think they don't.
I received one of these cards recently and have some unresolved thoughts about it. It didn't exactly feel good. On the one hand, it was a sincere extension from a stranger to a stranger.  We spend so much of our lives disconnected, and honestly, anything that might leave any one of us less isolated is a 'win'. 
Still, there is something that feels ill considered that I cannot quite put my fingers on. Patronizing is one way I can read it: you (person with a card in your hands) think you get to say who matters and who doesn't? And then there's the  question of "matter" which in recent years at least for me evokes "Black Lives Matter", a movement calling attention to un-examined racial bias and police terror against the Black Americans.  This evokes for me some of the minimizing "all lives matter" response — yes, all lives matter, and we are in an ongoing significant crisis against black and brown bodies. 
I'm also curious, having seen folks hand these cards out — if you are aware of people you habitually give them to, and people you habitually miss? 
What about: "I see you." "Thank you for being you." or "Thank you for being" or "You made my life a little better" or "May you be well" or ??
I wonder if your movement might evolve to acknowledge the climate in which we are swimming?
I've handed out You Matter cards during the past 3 years.  My favorite story is sending 24 cards last year to a niece in prison.   She slipped them into the workbooks of ladies she teaches math and other subjects to in order to gain their GED for a high school diploma.  I'd sent some to her in previous years and she'd handed them out to friends.  She said this experience has been so good for all of them.  For myself, I keep one card on my computer desk and a magnet on my refrigerator.  When I share with others, I always give them 3 so they can share 2 (spreads the message even further). Congratulations and best wishes to everyone who participates in this wonderful campaign.
I am a recovering alcoholic and currently work at an out-patient treatment facility for the Veterans Administration. One of my functions is the orientation for people entering our program for the treatment of substance abuse. We provide each attendee with a folder containing much information regarding our program and the services available to them through the VA. The folder allows for the placement of a business-size card. I place a YOU MATTER card in each folder. At the close of the orientation I bring the card to everyone's attention and proceed to explain why I have placed it there with the following words: "The reason I put this card in your folder is because my last act as a drunk was attempted suicide, because I didn't think I mattered. And I want you, each and every one, to know that you matter. You matter to us. So please, let us do what we can, to help you help yourself get clean and sober." I have distributed over 1000 cards in this fashion. Thank you.
For the past few years I have been given my cards to people who have helped me along the way thru my journey of recovery from drugs and alcohol, these same people also have supported me thru the process of moving away from abusive relationships and learning my worth. My addiction was fed thru abusive relationships, drugs were my only coping skill. Now, just celebrating 5 years in recovery this previous Dec. 23, 2018. I am a junior in college studying for my bachelors in human services, in October I also graduated a course with 6 certifications that has opened the door to my first paid position in the field of helping others. I now have 25 of my own clients, who are where I have been. Who struggle with self-esteem, self-worth, abuse, substances and are fighting just to get a second of sanity. This year I have decided to give my cards to the people whom I now support. Some of them have been too involved in their own negative experiences to acknowledge the meaning of the card, but I know they will one day stumble upon this card amongst their belongings, and it will make them smile. Other's have been very appreciative of the simple, yet powerful meaning of just two words on a card, "You Matter." Regardless, if my small acts of kindness are appreciated at that moment or not, I did my part by letting them know that they matter, because helping them, helps me. Thank you!
I received a stack of cards from a beloved co-worker. I went home that night and gave one to each of my children, and one to my amazing wife-all responded with delight. My children asked if they could have some to take to school, so i obliged. I arose the next morning and saw one of the cards laying on my phone, with all of their signatures! That night I also had the pleasure of hearing them tell me about the experiences handing the cards out at school-they shared many stories of how some of the peers(and even a couple of teachers) teared up at the gesture! Thank you for the opportunity to get involved! One more way myself and my children can allow God to use us to touch hearts! Thanks Kathy!!
Jez!  I never anticipated the reception I would get from the You Matter cards.  Unbelievable.  For example, I thought a guy was angry with me for delaying the check-out line by distributing YM cards to those ahead of me and all cashiers.  He followed me outside and I gave him one as well.  Through tears, he said, "You have NO IDEA what this means to me today..  My wife is in the hospital dying and I'm wondering if I'm worth anything at all."  After some other exchanges, we parted and he added, "This is a blessing.  God is using you in this."  I now not only hand out individual YM cards, I give 5-10 to them to pass on to others.  So far, over 2500 cards given with unbelievable responses and even greater numbers of fabulous feelings of internal joy and happiness within myself.  How wonderful for all concerned!!
I have been enjoying being in the community of Leadville, Colorado, which is a small town at the highest elevation in the country, 10200 ft. It is wicked cold in the winter, but everyone enjoys it since snow sports is what it is about. I found out about the Toy Drive for needy children and decided to participate. I dropped off 2 toys at the Medical  Center, which was collecting all items to later be distributed at a holiday party for all citizens. I posed with the receptionist who collected the gifts as I gave her the You Matter card. She was very delighted to get it and willing posed for our picture.
Last week, I was leaving You Matter cards in random locations at my job. (I work in a retirement community.)
I put one in a secrion where my coworker takes care of. She asked if I put it there. At first I said no but told her yes. It was for her. She thanked me. At the end of the shift, she told me "of all days to get something like this, today meant so much". It was the anniversary of her mothers passing. I began to cry and said I was sorry for her loss. She said she didnt mean to make me cry but she wanted me to know it helped her through the day.
I have been donating blankets and cozy warm wraps around town this holiday season.  Several of my cards were placed with donated blankets and given to a local dialysis center.
Another blanket with card was 'secretly' placed on the steps of a fire truck in the parking lot where the firemen were eating lunch.
One of the pharmacy aides at our local CVS was gifted a wrap and card.  Her mouth literally dropped open when she saw the YOU MATTER card because our relationship was not the friendliest a while back.  I simply said that I appreciate her.  She was too touched to even speak.  A little kindness goes a long way.  And in the end we all just really want the same simple thing…to know that WE MATTER!
I worked as a cashier for a long time in a high end grocery store in my town. Most customers are elderly, well off, or both. Some days are hard. You get yelled at, looked down on, humiliated. The number of people that told me my job was nothing and I was useless was overwhelming, it wears on you.  I will never forget a woman early in the job who was very friendly, asked how my day was and wanted to know the answer. At the end of the transaction, she handed me a You Matter card. I cried when she walked away. In a job where you're called stupid and useless and expected to smile, I had never had something so kind happen. In the two years I was there I had this woman a few times. She always gave me a card, and it always made my day. Reminded me the world could be kind. I only ever kept the first one I got, it stays in my wallet. Every other one id give to fellow cashiers. The impact these had on us is other worldly.
You Matter 2018, so far my favorite You Matter person is one of my Doctors. I love to study genealogy people's background and the history of countries. Things that would enhance the person to be extraordinary in his profession. My health has its challenges, but so do others. Wise people seek strength from a higher being.
Their God.
My strength comes from the Lord sometimes. I have to stay still and focus hard on my Lord and Savior Jesus Christ. But for today during one of the periods of being obedient and not listening to the news. I was watching a movie and fell asleep. Never did I ever think I would hear that a bomb went into a house of worship, and people's lives I believe were lost while they were praying to their Higher God. As they were honoring him and their house of worship was invaded. One of my most important doctors God had used him. And I truly believed I am here today for his knowledge his spirituality and his dedication to his patients.
This doctor does not look at me as a person that is not worthy because of my physical characteristics. No matter how much he is in a rush to help others he acknowledges me as someone worthy of his time. I turned over in the bed and I said what they say about bombing, "No, no, I didn't hear that right." My brain started flying, my prayers started pouring, the tears started flowing and I said I know someone of that faith one of my doctor's I'm almost positive.
As, it so happened I was in the middle of being isolated from everyone's coughs and sneezes, etc. and knowing that I did not want (prednisone) not one more time. But I had an upcoming appointment with my doctor. He is an asthma and allergy specialist that has been seen on television often. Yet he still stays the same as the day I met him over 11 years ago. But hist last name leads me to believe what his faith is. I had to meet with him and pour my heart out so that he could feel my sincerity on what happened to his house of worship. After my office visit I talked to one of the workers and said my hands are no good but I cannot leave here unless you can help me prepare a "YOU MATTER" card. One for my doctor and one for his wife they got to be perfect and they got to be laminated can you help me???
Doctor came in the office a couple times and you're still here. I tried to hurry I tried to move fast but it had to be done properly everything decent and in order and once I leave his staff would give him the cards that are a token of love from me.
After giving him my heartfelt feelings about what has happened to his people. He said it mattered to him what I said and as soon as he took his lunch break he was going to inform his wife. Oh Jesus what I told my doctor who I consider very professional high standing, one with good morals no prejudgment a doctor you can talk to and negotiate with on your own behalf. No this was not about me there is only one God and the God you serve and the God I serve means as much to me as your God means to you and I am truly, truly sorry from the bottom of my heart. I left the cards behind, got my prescriptions, prayed and prayed some more, and I said "Thank you, Lord, for I know you have used this man to save my life." I will never ever forget Doctor Thomas E. Klein.
Oops, I forgot to take a picture of the cards because the lateness of the hour the need for the office to be vacated so that the next patient could come in. I did not take a picture but trust me when I tell you if there's anyone in my life that matters on a professional level it is this doctor that my Lord and Savior works through as he treats his patients with the utmost respect. Dr. Klein, you are the person that matters, remember always you matter. May God continue to lift your people up and bless you may he heal the wounded hearts. Those that mourn over their loved ones are people like myself that are mourning with you.
I just want you to always know no matter what faith it is that I know I can reach my God at all times. I have never walked in your office and you have changed up on me where. I had to be concerned you have been the same person day in and day out for 11 years. May God continually bless you your family your faith and anyone associated and important to you and your life. I can hear your voice saying and Marian it's your turn. Dr. Kline, may God always keep you close to the bosoms of his heart. Much love and admiration for what you do for others. Thank you, Dr., YOU MATTER!!!!
Hello Friends! I became involved with You Matter because my nephew attends Upper Dublin High School and he is a member of WINGS. I joined the marathon and have given out cards in my neighborhood and during my recent trip to Dublin, Ireland! I am thrilled by the reactions I encountered after handing these cards out! People are so pleasantly surprised that someone would take the time to give them a card. They are deeply touched and some have actually cried. Thank you for creating this marathon! It should truly be a year-round activity! I am so happy to be able to give You Matter cards out! It has changed my own life because I am making so many people happy!
I work in a Physical Therapy office as an Office Manager and couple of weeks a mom called to cancel her son's appointment. The reason for the cancellation was because he had been bullied on the bus home from school and didn't want to go anywhere. He came back today after the incident and I gave the You Matter card to his mom and told her to either give it to him or put it in his room discreetly. I hope he understands how important he is to his family and to the world.
So, this past Saturday, I was in Salado worth girlfriends and I handed a card to s police officer in one of the shops. He seriously asked, "what's this," looked down at it like only a law enforcement officer can, and laughed. Not the reaction I expected. As he chuckled, he said, "I love it." As he unbuttoned his breast pocket and tucked  it within, he said, "that's a keeper." I agree.
I have been giving out YOU MATTER cards for a few years now.  I had 5,000 printed and distribute them to friends for them to give to others.  I was at church on Sunday and a person asked for more cards.  She gave one to her granddaughter who had injected illegal drugs. Her grandmother showed me a cell phone picture. Her granddaughter was given a YOU MATTER card had been clean for some time and was rightfully proud of her sobriety.  The granddaughter had YOU MATTER (with a heart in between  the words) tattooed on the elbow of her arm to cover the needle track marks.
I handed a you matter card to a man, he smiled, looked at me, then handed the card back.  I looked at him and smiled and he reached out and took it back,  all without words and perfect understanding!
I voted this morning. In these unfortunate days of such political polarity, it was incredible to thank some of the local politicians for running and others who give of their time to volunteer at the polls. The smiles and thank yous were priceless. It means so much to make someone's day with just two little words. I have always given back by volunteering, but this was one the best and easiest ways to let someone know that they are appreciated.
This is my second year participating in the marathon. I've decided to stretch myself this year and really try to be intentional with my giving of the cards. For example, I just sorted my kids' Halloween candy and sent the extras to our troops overseas. Included in the package was a YOU MATTER card and a note of thanks. I'm looking forward to the many other ways my family and I can spread some kindness this season. Thanks for providing such a great platform!
On November 3, I  walked into a store, and as the clerk helped other customers, I felt compelled to give her my 3rd card.  As I stepped up to the register and paid for my  purchase, she handed me my receipt and I handed her a card.  She held it to her heart with both hands and said, "Oh! Thank you for this!  You matter too!" and she came around the counter and gave me a hug.  She said it means a lot to her, and proceeded to tell me a story about customers who had come to her store in the past and asked for a discount, and she said their store did not offer discounts and the man was angry and said, why?  Don't we matter?  And she said, yes sir you matter, and EVERYONE matters, but I just work here, and my boss does not offer discounts.  He huffed and puffed his way out of the store!  We then proceeded to have a long conversation about the divisiveness of our country these days, and we ended up teary eyed, but we both touched each other's lives in just a few minutes!  EVERY LIFE, AND EVERYONE MATTERS!
I  brought my first set of 10 cards with me to Viva Las Vegas. This is probably a town filled with people who could use some kindness, compassion, and love.
I gave my first card to the man I've loved before I ever met him  since I want  him to know, Even Now, after all these years, he matters.
Today,I was blessed with the opportunity to hand one to famous author, Mike Dooley. I think famous people need to be reminded that they matter outside of who they've become. Got to shake his hand, too.
The next 6 have gone to various Lyft drivers, wait people in restaurants, and other service industry workers; they are the backbone of our nation. As I left the Nevada State Museum, the young man at the missing entrance who took the tickets, gifted me the most beautiful smile and most bubbly of thanks. We had shared some nice moments when I first arrived about one of my son's also bearing his name, Joshua.
In conclusion (for now), this movement, matters.
I thought about the first card I would share.  I knew it had to go to a special  person that means so much to so many people.  I was taken back when a student at our local High School died after reported acts of bullying.  So many are quick to judge all by a handful of others.  Our coach at our local WW Studio Workshop is a teacher at that school.  I knew it had to go to her!  She gives so much of herself on a daily basis and then come Saturday she's ready to take on our problems or victories.  We exchanged hugs and tears as I handed her my first card. I explained how much she has meant to me on my journey to self discovery and to her students at a time of loss. Teachers are caught in the crossfire of so many daily problems and give so much of there lives to do their jobs to the fullest capacity.  I challenge each of you to find that special person who has made a difference in so many lives and tell them "YOU MATTER."
I gave out all 30 cards (one for me) and then sent more via email to make the Nov. 30 "deadline." I accompanied all with a link to the website & a brief description of this Marathon from materials provided by this group. Everyone was touched & pleased, especially once they really got it. None were to strangers, as I found too many people I see or am in touch with, once I really got going.  I believe at least some will join in next year, & I plan to approach it a little differently to encompass more individuals.  This is a positive idea of inclusion, when so much currently seems to be the opposite.  Thank you.
In the academic medical center where I work, there's a beautiful chapel where anyone can go for prayer or reflection. In the chapel vestibule there's a book where people can record their prayer requests for the chaplains. This month I have left a You Matter card at the prayer request book multiple times so that the next person who writes something there will find it. I haven't stayed to see anyone pick up the card, but I hope that it gave him/her a moment of hope in a difficult time.
My husband has had ongoing medical concerns for a year with a broken ankle, including seven surgeries. Our church has kindly been bringing us meals. When I wrote the thank you cards to these wonderful individuals, I included a "You Matter" card, because they do matter. That people can take time out of their busy lives to bestow kindness on people in need are very worthy of the "You Matter" reminder. God bless them and this program!
As my students and I prepared breakfast at a shelter for displaced children, women, and men, I put out You Matter cards at every place setting. When one young lady came to get her breakfast, she just said a simple, "thank you, I needed that." Sometimes that's all it takes…the feeling that one gets that she belongs; she is cared for; she matters. This reinforces in me how important it is for each of us to be seen; to not be forgotten about.
This is my second "You Matter Marathon" and I am loving participating in it again! I even ordered an additional box for this years marathon  in anticipation for the month of good feelings I get when sharing them!
Last weekend while on a out of town trip I almost felt like the "Easter Bunny" leaving the cards in random locations,in the airports and with fellow travelers. A card to each of the flight crew was fun to hand out as we de-planed (and that included the cleaning crew waiting to board the plane). The rental car agent wanted to tape his to the credit card machine to share with his customers.  A bathroom mirror here, a passenger there, I was glad to have enough cards to indulge myself as much as I wanted to!
I drive a school bus for an elementary school and a jr. high school and have attached a card in my bus so my students could view it as they are leaving  or coming on it. I also plan on giving a card to each of them (I have approximately 72 Jr, High and 50 Elementary!) and attaching a cool sticker on the back of the cards.
Thank you for providing this amazing experience!
I gave my cards out at my work. I work in a hospital and thought some co-workers and some sweet elderly patients. One coworker held on to hers in her pocket said I made her day, a patient smiled and said it put sunshine in her day since she missed her family. A small gesture and a caring humble feeling makes it worth all to both me and the receiver. I felt really humble and hoped I made a difference in  letting others know they matter. I don't have much and have made a huge life change myself. I try to just say a kind word  or smile or just give a positive gesture.
Today I had a very special occasion to give out a you matter card. I work for a municipal building as their receptionist. I speak to everyone that comes in the door about the issues that they have. Today a nice woman named Audrey came in and was a little sad. I asked if she was ok and she said that her mom had recently passed. As she started to tear up, I told her that I had lost my mom too. I tried to tell her that it will get better, then handed her a box of tissues and walked over to her to give her a big hug. I also handed her a "you matter" card which made her cry more-but a good cry- like she knew she mattered. I made a new friend today and she promised to visit me again to telll me how she is doing. I cried too- it was beautiful.
Have been sharing these cards with every Service person I come in contact with. Very well received and gifted me with so many wonderful smiles and a few warm hugs in return. It's simply wonderful!
It may sound a little cliche to say "you never know what someone else is going through" but I experienced first hand just how much truth there is to this statement. I decided to give my first card to a random stranger. I did not know when or where this would happen but decided to just trust my gut. I was waiting in line to check out at a department store and engaged in conversation with another lady. By the end of the conversation, I knew she would be the recipient of my first card. When I handed her the card, she began to cry and shared her story of a recent battle with breast cancer. There I stood in the middle of the store with a perfect stranger, crying with her, while also letting her know she matters. My story doesn't end there. I had one more purchase to make at the same store. While paying for my merchandise, my gut told me to give the cashier a "you matter" card. Again, when I handed her the card she began to cry. She too shared a story with me. She had just escaped a five-year physically abusive relationship. Once again, I found myself standing in the middle of a department store crying with a total stranger. Giving the "you matter" card to these ladies touched my life just as much as it touched theirs. I smiled all the way home.
My son just turned 9 on Halloween n is a special needs child with Down Syndrome. He has two aids that help him thru the day at school. One of his aids has a special need child herself n she always works tirelessly with the kids in her class. She always has a smile on her face. I keep my pouch of cards in my car as to remind me of always b on the look out for someone that needs one. Yesterday she seemed down n not smiling n when I asked what was wrong she of course said nothing. I reached in my car n told her ya know i dont know whats goin on but i do know that you matter. Whatever is goin on i want you to know you matter to me, these kids, n this school. She immediately started crying n hugged my neck n said i made her day. She said ahe needed to hear that. Thank you for allowing me to b apart of this great campaign. My older kids are getting in the act also.
I am giving away several cards in small envelope which includes a second card with short note that asks the recipient to pass along the second card to someone who least expects to receive it.  Also prompting the receiver to keep the first card somewhere they will remember to view it for self discovery.
I am a teacher and I wanted to give each child in my homeroom a You Matter card and sign it. As they came into class this morning they each had one on their desk. Many of them smiled and said Thank you. Then I went around and shared with each of them why they mattered to me. It created a great atmosphere and encouraged communication.
I just gave out my first You Matter card. I thought it would be to someone down and out to help lift them up. To my surprise, I gave it to one of the most upbeat person I have ever met. A preschool director. I have known her over a year and have Never seen her without a smile, a kind word for everyone, etc.  when I saw her this morning I thought even the most upbeat person wants to know they matter. She hugged me and thanked me and I walked away feeling I gave it to the right person to start off the marathon!
First let me say when I saw You Matter I was very excited.  I am so glad I heard about the program on a news report and decided to participate.
Years ago in the 1990's I was given a ribbon with much the same intent.  I was attending a conference for work and the ribbons were passed around to the participants.  We were told to make a difference by passing on our ribbon.  When I left the room I saw someone who appeared to need inspiration.  Therefore, I passed my ribbon on to a gentleman who I only knew briefly but felt he had a kind heart and wonderful spirit.  From that day we have discussed the ribbon and he shared how much he appreciated the kindness.  To this day he is still  a special friend who is near and dear to my heart.
Last night while waiting for my husband of 15 years to come home after a 12 hour shift. I was taken back by a phone call, "I'm ok" but the bike… I quickly asked "Are YOU ok?" The motorcycle can be replaced but "You Matter" more than the bike! My husband knew that my 1999 Springer Softail belong to my late brother and it was my pride and joy. It broke his heart to lay it down when a deer ran out of the dark. I can't imagine life without him by my side!
When I turned on the morning news I heard of the "You Matter Marathon" and it was eye opening moment. If I could only give one to each of victims of the recent disasters and the people working with the humanitarian crisis. To give hope in a time of despair is what we all need in this day and time. Thank you  for this program it is a blessing to know that someone hears our cry for help and is willing to reach out. 🙂
THANK YOU!  I keep them in my pocket, my purse, at my front door, in my car, etc.  I have given out my first 1000 and am well into the second. The responses and "stories" are wonderful, wonder-full, amazing and filling.  What terrific movement you have begun.
My husband and I are handing out "You Matter" cards this month and the experience has been amazing! You touch people's lives and they yours that would never have happened if not for this marathon. I want to share one encounter that will remain with me forever.
I was in an elevator, at a motel, while on a weekend away. A young man, very emaciated  dripping wet in his bathing suit got in with me. I commented on him taking a swim and he said he took a "soak" in the hot tub. The conversation went further, me asking him where he was from and was he on holiday. His response, "I have given up the will to live and I am checking things off my bucket list." My heart dropped and I reached into my purse, saying that I had something for him, and gave him a "You Matter" card as we got out of the elevator. He read it, shook his head, and we walked in silence a few feet to our room, which were next door to each other. I heard him mumble under his breath as he entered his room, "I'll be damned. I matter."
First off, Thank You Cheryl for taking a leap and bringing this project to life!  I have given my cards in person to 11 strangers and it is an interesting experience.  My inner critic speaks up and tells me "they are not going to get this or they will think you are nuts"!  I'm happy to report that my inner critic has gone silent.  Every stranger has had a positive reaction to these cards.  I have given them for co workers to find and have sent a few in the mail.  I love spreading kindness and love!
The cards arrived on time and I am enjoying distributing them so far. People have been positive upon receiving the cards. I look fwd to opportunities to put another smile on someone's face.
The "You Matter" marathon has been a heart-warming experience for me as I have secretly and sometimes not so secretly delivered this powerful message. These two words have touched the lives of family members, custodians, educational support staff, and security personnel at my school and people who are currently navigating difficult circumstances in their lives. Today over 50 teachers opened a training manual that contained a "You Matter" card. I saw the look on their faces. One person had tears in her eyes and others smiled. This group is preparing to facilitate conversations with our 9th graders on topics related to identity, dignity/empathy. stereotypes/biases and community. "You Matter" = "We All Matter." I can't be me without you.
I joined the YMM at the beginning of the month after finding out about it from the GreaterGood website. I enthusiastically signed up to receive my You Matter cards and started my marathon with running shoes on!  After handing out a few cards to unexpected strangers and realizing the impact these 2 little words made to each recipient, I decided to pass this good will message on! I lead an "Inspirational Discussion" group each week at a senior community where I work. 2 weeks ago I invitated participants to join in on the YMM movement. I handed out 10 cards to each person to start with, and challenged them to give a card to 10 people of their choosing during the week. The following week at our discussion I asked who they chose to give to, what was the person's reaction and how the group members felt after witnessing their reaction? Each member responded with an overwhelming sense of joy and heartfelt impact from their ability to brighten someone's day and touch their life in an instant.  The responses were priceless. More cards were requested and the invitation to join the YMM was passed on to their friends and family. The ripple effect continues to grow spreading kindness, compassion, and most importantly the message that we all matter and are not alone! Thank you Cheryl for beginning this movement and all you YuMMies who continue this magical marathon!!!
I've been going to the same dentist for over 30 years. Most of his staff have been with him for as long (or longer). They have literally watched me (and my teeth) grow up. I brought cards for each of them. I took a moment to express how much they mean to me as I handed them a card. There were tears and hugs all around. They have been there for me through traumatic life experiences, not just dental work. They are family to me.
Day 17 of the YMM and unlike most marathon's this one actually empowers the participant (me) instead of making me way exhausted! Positive vibes incredibly produce MORE instead of less! Thank you for creating this wonderful vehicle to help turn on the light within. I relish each opportunity to share a card. I left one in the locked up postal box for the post-person to find, gave one to the "Apple Genius" when he was patiently listening to my computer's woes, the checkout person in the grocery store turned her yawn into a nice smile when she was presented one! And the list goes on….this is one habit I will look forward to integrating into my life, even AFTER the Marathon is finished!?
Not being new to gifting, I found this gift opened up people's hearts even more, shown with their smiles, and  emotions that could be described as close to tears.  One friend of a recipient came to tell me, "You don't know how much that means to him."  I now put them in library books, behind  products on the grocery shelves, on bulletin boards. under things!  I love the idea of people finding gifts and smiling, laughing, crying, etc.
A group of psychology students on our campus was participating in a "Random Acts of Kindness" event this past week – passing out treats and uplifting quotes at the entryway to the campus.  I approached and accepted their offering and then had the joy of sharing a card with each of them.  It was fun to add a twist to their activity – and be able to thank them for what they were doing for our community!
The first three cards were handed to my teenagers and they each asked for a couple to hand out as well. After coordinating days each would give out their card, they moved on with their day. When the first one handed out a card, they were so  shocked that it was received so warmly that they asked to be able to hand out cards all year long. Can anyone say, Christmas presents?! They are having a hard time waiting for their "day".
On election day in the US, I handed out a card to one of our poll workers I've seen over the years.  She started crying and said that she wasn't sure how I knew that she was feeling worthless and unimportant but that the card made her day! We hugged and I sat to talk with her for a bit. What a wonderful feeling for BOTH of us!
The next day I handed out a card to a man who said that he felt unimportant and unloved as a result of the election but that the card helped him realize that there are people who love him and his family and want them here.
This exercise has not only touched the student who felt suicide was the only answer, the vet on the corner and people normally overlooked but has enriched my life immeasurably. Thank you!
I gave my first "You Matter" card to my partner. He lit up and immediately wanted a bunch to hand out to people.
Today I gave 22 cards to co-workers. Most of them said they wanted to cry, some hugged me, some said this was EXACTLY what they needed right then, one said I LOVE THIS. It was wonderful for me and for them!
Today I sent out 5 cards (3 friends, 2 relatives) and slipped in a card for the recipient and two extras for them to share.  I decided to 'spread the wealth' and get them in on this wonderful marathon.   I have one sitting on my desk by the computer to remind myself that I too am special and worthy.  My husband is getting one in his Thanksgiving card.  Looking forward to handing out the rest.
In every case, each recipient of my card actually fought back tears.  They all hugged and kissed me.  It was a powerful reminder that doing the right thing, the loving thing, always works, somehow.  They also, ALL, have said they'd put the card somewhere visible, to remind themselves that….they DO matter.  Thank you for this fantastic opportunity!
Was hesitant at first to hand out cards but had a new insight the other day – went to the Dollar Store and bought multiple thank you cards – for the past lady, the paper boy, the trash collector, the yard man, the house cleaner, the local checkout counter clerk at Publix – and put a card into each card. Just starting with that but seems comfortable to say thanks at the same time.
Thank you, thank you, thank you for this beautiful movement of love and peace!  I was thrilled when I opened your handwritten envelope (a rarity these days) and found the cards!  The first feeling that I had was gratitude to you for conceiving this precious gift. It is like a ray of purple sunshine!
My first card went to a counselor at the Hazelden Betty Ford Center in Rancho Mirage, who is working hard to help people recover from their addictions.  The Hazelden Betty Ford Foundation has been saving lives and restoring families from substance abuse and addiction for more than 60 years.  It felt wonderful to acknowledge his healing power.
The rest of the cards will be handed out randomly, as I travel across the country in the next month.  They will go to people who do the simple tasks that help us flourish, yet, who are seldom recognized.  In this way, with intention, they will help me to focus on the acts of loving kindness around me.
Thank you for your generous act of reminding us of this simple, yet, profound message. 
Especially at this moment, in America and in the world, You Matter.
Aloha!
On 11/08/16 my husband and I went to our local polling place to vote. There was a problem with the machine that accepted the completed ballots. While waiting in line while the machine was being looked at, I spotted 2 on-duty police officers from our town standing to my right. I opened my purse and took out 2 YOU MATTER cards. Before we left, I handed one to each officer. Each thanked me as they looked at their card. With all the negativity in the news lately about police officers, I was so moved to pass out the first 2 cards I had given out to 2 police officers. This is a great "marathon" and I feel humbled to be part of it. Thank you so much!
I sent several of the YOU MATTER cards through the mail.  One in particular was to an old college roommate.  I received a heart felt emiail THANKING me for the card.  She received it the day after the elections.  She was very discouraged with  the results and the card helped bring everything into perspective.  She says she will pass it on.
Initially I was a bit embarrassed to give out the You Matter card ?. But I had pledged to do it, so I set myself to it. The first one I left to be found, then I thought that was a bit of a cheat. So the next one I gave to a supermarket checkout lady. "Thank you–you've made my day". That encouraged me to give out more. At first I gave them to women thinking men might think they were fluffy or embarrassing.
No, just do it, I said to myself. I gave a card to the male receptionist at a youth centre–a moment of incomprehension, and then a big smile. "Thank you!"
In this time of anger and alienation, I encourage you to reach out with two words, you matter. No matter how hard it is to get over that reserve, it is really worth it.
Thank you for adding this option to share our "You Matter" stories!  I was waiting in line at a specialty coffee house (keep in mind that this was NOT a drive up/slosh out your coffee drink establishment) The person in front of me was waiting to give his order while the barista prepared a beverage for the customer that was before him. When she was done, she smiled at the man and was going to make his beverage when, & I could SEE his veins popping out of his neck as he let the poor barista know what he thought about her service! I could not hear (steaming milk IS very loud) WHAT he told her, however I could see that the tongue lashing left her feeling not so great. (seriously who would feel ok after that??) She smiled bravely and then asked me about my order, and that is when  THE PERFECT OPPORTUNITY to share a You Matter card presented itself.! ?
It was awesome! (and I still gave her a tip because that comes in handy as well!)
My experience is similar to Julie Higgins'. I am much more aware of people that I encounter and what their struggles may be. Hence more connected with the people I meet.
Thanks for this opportunity for growth.