Dear YuMMies,
Karen lives in West Virginia and has been giving out You Matter cards for a few years. She loves to see the positive impact of the You Matter Marathon in action, and her husband spreads the message even further on his business trips around the country. Here is her story:
"It means so much just to see the expression on someone's face when you hand them this simple card with such simple words: 'You Matter.' I know personally that there have been several times that I could have used a You Matter card myself! It's so important, more nowadays than ever, to let people know how much they matter. It seems you hear so much negativity and not enough positivity. People need to know they are important and that they are appreciated. Too much focus and attention on the bad can be extremely discouraging – we need to start focusing on the good to encourage one another.
My husband travels with his job, so this past fall he took some You Matter cards on his trips. When he was having his evening meal at a restaurant, his server appeared nervous as she approached his table. She did a great job, but her anxiety was noticeable. Later during his meal, she told him it was her first day, which explained her nervousness. He encouraged her, telling her she did a great job. When he left, along with paying his bill, he left a You Matter card with her tip. It was all very nice, and he thought, 'end of story.'
About a month later, however, he was working in the same area and returned to the same restaurant. This young lady was working but was not his server. After a month's time of serving many customers, she recognized my husband. As she passed his table, she paused, opened the tablet she writes her orders in, and showed him the You Matter card – right where she would see it every-time she opened her notebook. She told him she remembered him and simply said, 'thank you.'
When he came home, we were both so overwhelmed with what 'a simple card with simple words' had meant to someone.
Everyone needs to know They Matter!"
We couldn't have said it better ourselves, Karen. The You Matter Marathon stresses recognizing the importance of "the other" for moments just like this. You never know how much a person may need "a simple card with simple words," and how great an impact it can have on their lives.
You Matter.
Cheryl Rice, Founder
https://youmattermarathon.org/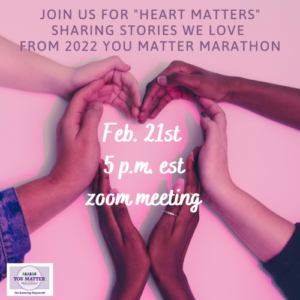 Don't Miss our Heart Matters StoryTime!
Register in advance. After registering, you'll receive a confirmation email containing the Zoom link.