Only One Week Left!
Register now for the
You Matter
30-Day Card Challenge!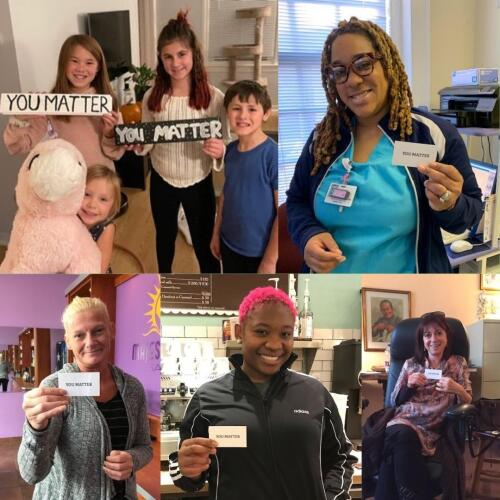 Time is flying, and we're eager to remind you that there's only one week left to join the You Matter 30-Day Challenge!
We hope you are excited to be a part of something extraordinary. The You Matter Marathon is not just a challenge; it's an opportunity to make a difference in the lives of others, spread kindness, and create a more peaceful and joyful world.
We believe that every act of compassion has the power to change lives, and with your support, we can create a ripple effect of positivity that reaches far beyond our imagination.
By participating in the 30-Day Challenge, you will receive a specially curated package for just a $25 donation:
30 You Matter Cards: Touch lives every day by giving out one card to friends, family, or even strangers. A simple gesture can brighten someone's day and remind them of their worth.
You Matter Window Cling: Proudly display your commitment to spreading kindness and compassion wherever you go.
Access to a Private Facebook Group: Reflect on your daily interactions, capture meaningful encounters, and share your experiences with the You Matter community.
Entry into a Raffle: Stand a chance to win an exclusive You Matter t-shirt and wear it proudly as a symbol of your dedication to creating a world where everyone knows they matter.
Joining the challenge is easy! Click the link below to make your $25 donation and secure your You Matter Marathon package:
You matter.


Cheryl Rice, Founder
https://youmattermarathon.org
P.S. Don't miss out on this fantastic opportunity to be a part of the You Matter Marathon 30-Day Challenge! Only one week left to register and receive your package of kindness!
Spread the word and let's make the world a better place, one You Matter Card at a time. #YouMatterMarathon #SpreadKindness #30DayChallenge